Updated May 2022
In Summary
In 2021, total production of marketable coal decreased by 30 per cent from 2020 (see Table S7.1).
As shown in Figure S7.1, subbituminous coal production slowed significantly in 2021. Thermal and metallurgical coal production also fell in 2021 as the Coal Valley mine Grande Cache mine were temporarily closed for most of the year.
Of the marketable coal produced in 2021,
49.3 per cent was subbituminous,
50.2 per cent was thermal bituminous, and
0.5 per cent was metallurgical bituminous.

Subbituminous Coal
In 2021
Subbituminous coal no longer comprises the bulk of coal production in Alberta, but it still accounted for nearly half of the total marketable coal production in 2021. Production of subbituminous coal decreased by 36.4 per cent in 2021 to 5.0 megatonnes (Mt). Several subbituminous coal mines have reduced production or ceased operations altogether as coal-fired power plants have begun retooling their operations to use natural gas to replace coal as the feedstock.
Forecast for 2022 to 2031
Production of subbituminous coal is expected to decline to nearly zero by 2024, several years ahead of the legislated deadline in 2030. Rising carbon costs have played a significant role in Alberta's transition away from coal-fired power generation. This outlook incorporates the Alberta Electric System Operator's forecasted retirement schedule, featured in its most recent long-term outlook, and reflects any recent retirement updates announced by operators.
Metallurgical Bituminous Coal
In 2021
Production of marketable metallurgical bituminous coal (called coking coal) declined by 95 per cent in 2021 to 0.1 Mt due to the Grande Cache mine suspending operations amid uncertain market conditions and operational constraints during the pandemic; however, the mine restarted operations in the fourth quarter of 2021.
Thermal Bituminous Coal
In 2021
Production of marketable thermal bituminous coal (called steaming coal) decreased by 8.4 per cent in 2021 to 5.0 Mt, primarily because of the suspended operations at the Coal Valley mine. The mine restarted operations in the fourth quarter of 2021.
Total Production
Forecast for 2022 to 2031
The forecast includes several potential projects that plan to extract and export the province's coal. These projects are currently pursuing preliminary drilling exploration programs and going through the regulatory approval process. The forecast also considers the Government of Alberta's recent announcement that the province will be "expanding restrictions on coal-related activities in the Eastern Slopes until effective land-use planning is completed for the area." Despite several potential bituminous mines seeking regulatory approval, the projection for bituminous coal production remains relatively stable throughout the forecast period.
Total coal production will fall significantly over the forecast due to rapidly declining demand for subbituminous coal as operators of coal-fired power plants transition to other sources of power generation.
Table S7.2 lists the coal mines in Alberta and their marketable production in 2021.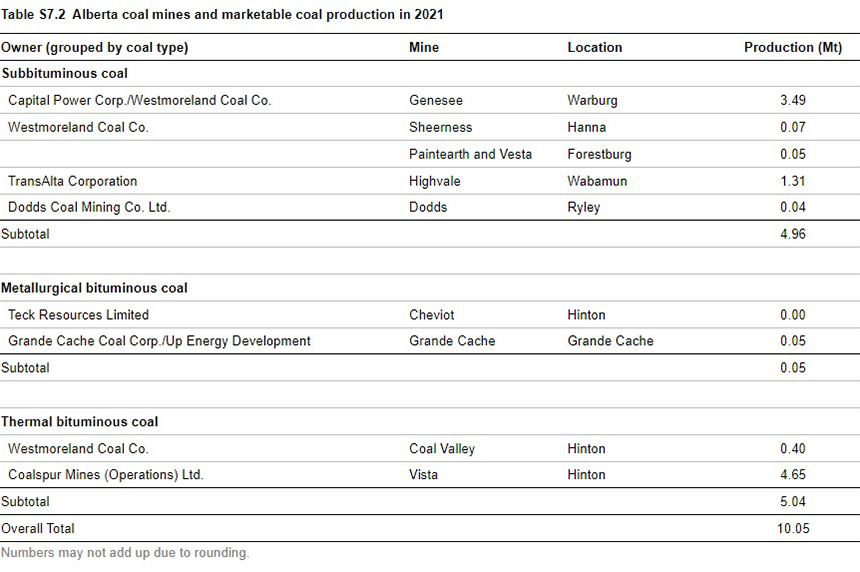 Figure S7.2 shows Alberta's coal mines and the remaining coal-fired power plants. Note that Genesee is now the only remaining coal-fired generation in Alberta. The remaining units have either been converted to gas, converted to dual-fuel, or decommissioned.
Learn More