Updated June 2021
In Summary
In 2020, total production of marketable coal decreased by 24.8 per cent from 2019 (see Table S7.1).
As shown in Figure S7.1, subbituminous and metallurgical coal production slowed significantly in 2020. In contrast, the production of thermal coal increased by a sizeable margin, as operations at the new Coalspur Vista mine continued to ramp up.
Of the marketable coal produced in 2020,
54.5 per cent was subbituminous,
38.7 per cent was thermal bituminous, and
6.8 per cent was metallurgical bituminous.

Subbituminous Coal
In 2020
The majority of coal produced in Alberta is subbituminous coal, accounting for about one-half of total marketable production. Production of subbituminous coal decreased by an estimated 38.7 per cent in 2020, to 7.8 megatonnes (Mt). Several subbituminous coal mines have reduced production, as coal-fired power stations have begun retooling their operations to utilize natural gas in place of coal that was historically used for feedstock.
Forecast for 2021 to 2030
Production of subbituminous coal is expected to decline 100 per cent by 2030 as companies transition away from coal-fired power due to legislated retirements, higher carbon costs, and lower electricity prices. This outlook incorporates the Alberta Electric System Operator's forecasted retirement schedule, featured in its most recent long-term outlook, and reflects any recent retirement updates announced by operators.  
Metallurgical Bituminous Coal
In 2020
Production of marketable metallurgical bituminous coal, commonly called coking coal, declined by 63.6 per cent in 2020, to 1.0 Mt, due to the closure of Teck Resource's Cheviot Mine in June and suspended operations at the Grande Cache Mine midway through the year.
Thermal Bituminous Coal
In 2020
Production of marketable thermal bituminous coal, or steaming coal, increased by 50.2 per cent in 2020, to 5.5 Mt, in large part due to ramping up at the Coalspur Vista mine. The mine was approved in 2014 but remained dormant until early 2019 due to weak thermal prices. It recorded a full year of production in 2020, at 4.8 Mt.
Operations at the Coal Valley mine were suspended in summer due to significant constraints and challenges imposed by the COVID-19 pandemic.
Total Production
Forecast for 2021 to 2030
A number of projects to extract and export the province's coal are currently pursuing preliminary drilling exploration programs and going through the regulatory approval process. Despite several new potential bituminous mines seeking regulatory approval, the forecast for bituminous coal production is lower than the previous outlook due to closure of the Cheviot Mine.
Total coal production will fall significantly over the forecast due to rapidly declining demand for subbituminous coal as operators of coal-fired power plants transition to other sources of power generation.
Table S7.2 lists the coal mines in Alberta and their marketable production in 2020.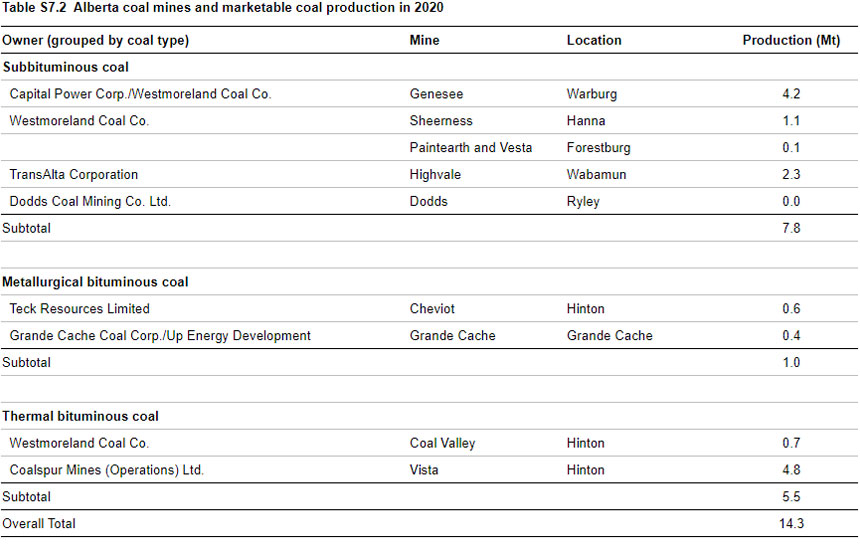 Figure S7.2 shows the producing surface coal mines and coal-fired power plants in Alberta.
Learn More