Updated May 2022
What is Hydrogen
Hydrogen is an energy carrier and one of the most abundant elements on earth that can be the fuel of the future. Hydrogen is a colourless, odourless, and flammable gas found almost everywhere on earth but only combined with other elements, such as carbon, and oxygen.
Hydrogen can be produced from natural gas by either steam methane reforming or autothermal reforming methods. These methods introduce high-temperature steam and a catalyst to methane, producing hydrogen, carbon monoxide, and carbon dioxide (CO2). With additional processing, carbon monoxide is converted to CO2. The following figure from the Canada Energy Regulator shows the three types of hydrogen and their by-products.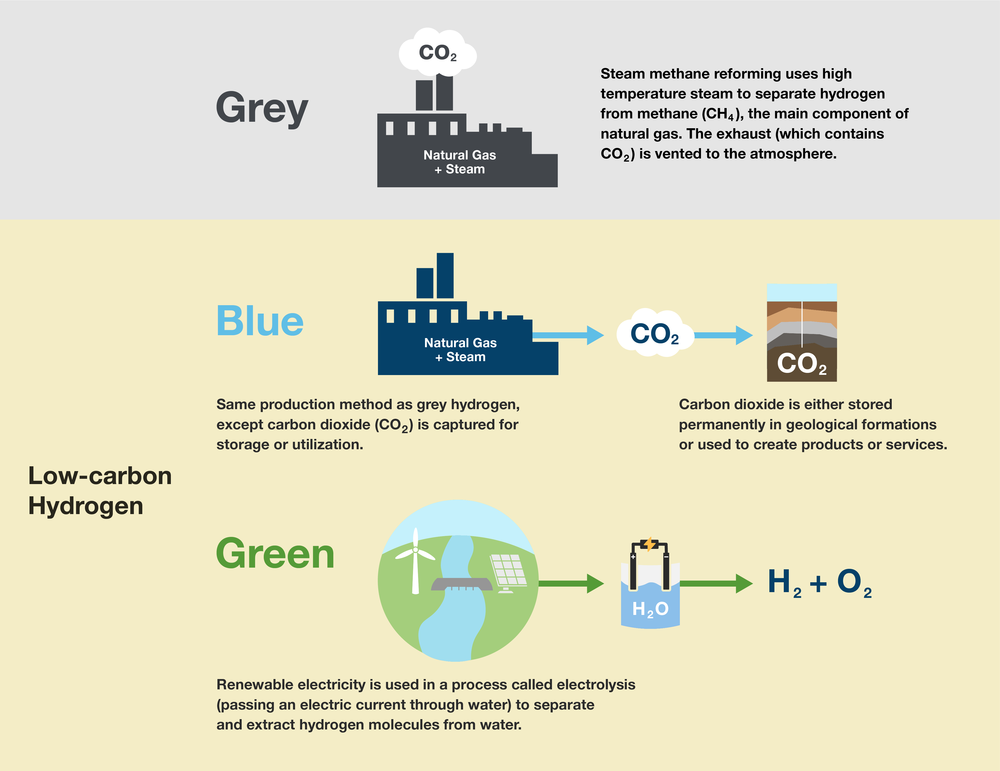 Source: Canada Energy Regulator
There is an opportunity for hydrogen to replace fossil fuels as a carbon-free energy source. Hydrogen-powered electric vehicles have zero emissions, whereas gasoline vehicles emit carbon monoxide, CO2, hydrocarbons, and nitrogen oxides—all sources of air pollution.
Global hydrogen demand is driven by the refining and industrial sectors. However, it is expected to expand to other sectors, such as transportation, power generation, and heating. In parallel to the growth in hydrogen demand, the end-uses for the CO2 captured from blue hydrogen production are developing. The potential applications of captured CO2 are growing. Potential uses for CO2 include yield boosting (e.g., greenhouses, fertilizer), heat transfer fluid, welding, building materials, chemicals, and fuels.
Federal and Provincial Government Hydrogen Plan
The federal government has set a hydrogen strategy for Canada, leading to actions that will establish hydrogen production to achieve Canada's goal of net-zero emissions and be a leader of clean and renewable fuels by 2050. The near-term demand for hydrogen will be influenced by the market readiness of applications (see the Technology Readiness Level (TRL)1) and commercial applications (e.g., heavy-duty trucks, power generation, industrial feedstock, and heat for industrial sites).
Alberta's hydrogen plan is aligned with that of the federal government. As a world leader in hydrogen production and carbon capture, utilization, and storage (CCUS), Alberta can be a major player in clean hydrogen production, transportation, and use. The Alberta's Industrial Heartland region near Edmonton has the advantage of becoming one of the first hydrogen producing hubs in Canada. It has access to plentiful natural gas and potential CCUS sites, an existing hydrogen pipeline, and two CO2 pipelines. Leveraging the existing infrastructure will reduce the upfront production costs of new blue and green hydrogen projects. Alberta has several advantages that include experience and technical capacity in producing, handling, and using hydrogen at the industrial scale, positioning the province as the largest hydrogen producer in Canada today. The province has the necessary skilled labour that pioneered Canada's energy industry to support the emerging clean hydrogen economy.
Production in 2021 and Forecast
In 2021, total hydrogen production in Alberta increased by 4 per cent from 2020 (see Figure S9.1). About 2.5 million tonnes of hydrogen were produced in 2021 (81 per cent grey hydrogen and 19 per cent blue hydrogen). Natural gas use also increased slightly in 2021.
Current uses of hydrogen in Alberta include industrial applications such as chemical production, oil refining, bitumen upgrading, and nitrogen-based fertilizer production. ATCO is blending hydrogen with natural gas for residential heating systems. Other potential uses through pilot projects are transportation uses, including hydrogen fuel cell vehicles (cars, buses, trucks) and hydrogen co-combustion engines primarily for heavy-duty applications.
Projects
Several companies in Alberta have announced projects:
Air Products has announced the construction of the first hydrogen liquefaction facility in western Canada
Suncor and ATCO have announced to jointly build a production facility for clean hydrogen near Fort Saskatchewan in the Alberta's Industrial Heartland region.
Japan's ITOCHU Corporation in partnership with Petronas Energy Canada announced a natural gas-based ammonia facility with CCUS in Alberta to export ammonia to Asian markets.
Several pilot projects across the province are exploring new deployment applications and methods of cost-effective clean hydrogen production:
Ekona Power is developing a novel low-cost clean hydrogen production system for industrial processes.
Canadian Pacific Railway is testing hydrogen fuel cell use in a locomotive for rail freight.
The Invest Alberta Corporation, Alberta Transportation, and the Canadian Infrastructure Bank are assessing a Calgary to Banff hydrogen-powered rail passenger project.
The Alberta Zero Emissions Truck Electrification Collaboration (AZETEC) is testing hydrogen's ability to fuel the province's heavy freight transportation sector.
Limitations or Risks to the Outlook
Currently, the construction of hydrogen facilities (blue or green) is not cost-effective. Hydrogen production is expected to become competitive as carbon taxes increase in the coming years. The economics of the hydrogen industry depend on climate change policies and government support, with associated risks. These dependencies and current high investment costs would probably affect short-term investment decisions. Several actions can be taken to improve hydrogen economics and reduce investment risk:
Create a transparent regulatory framework.
Establish industry and government partnerships.
Blend hydrogen with natural gas using the existing natural gas networks.
Create hydrogen hubs to leverage shared infrastructure.
Learn More
1 Technology readiness level is a method that estimates the maturity of technology projects. There are nine technology readiness levels, with 1 being the least ready and 9 being already used in real-life conditions. https://www.ic.gc.ca/eic/site/080.nsf/eng/00002.html