Oil and gas companies in Alberta are responsible for ensuring their infrastructure is safely closed and cleaned up. The costs associated with this closure work — also known as end-of-life obligations — are what's called "liability." This liability information can be found on our Liability Management Rating and Reporting page.
The Government of Alberta sets policy direction for how liability is managed and provides general oversight, with the goal of reclaiming land for other uses. The AER is responsible for implementing policy, monitoring progress, and providing enforcement when needed. Our mandate is to protect public safety and the environment while ensuring responsible energy development.
Liability management has been a growing area of public concern in recent years in Alberta, as well as other jurisdictions. Through ongoing consultation with industry and other stakeholders, the Government of Alberta and the AER have identified gaps in how liability is managed in the province.
What needs to change
Liability management in the oil and gas sector aims to reduce the number of inactive sites (wells, facilities, and pipelines) over time. Inactive wells, specifically, are wells that haven't produced and have been idle for 6 or 12 months based on the well classification. However, closure work has not kept pace with the steady growth of the number of inactive wells. While the recent economic downturn has played a factor, even during times of prosperity, the amount of closure work has often lagged behind. There were approximately 97 000 inactive wells in the province at the end of 2020, up from 89 000 in 2019, and 84 000 in 2018.
It is clear that how we manage liability has not slowed the growth of inactive sites. Historically, liability management has been largely reactive and not focused on the full life cycle of energy development. In particular, the liability management rating (LMR), which is a ratio of a company's liabilities and assets, is not an accurate measure of whether a company will be able to address their regulatory and end-of-life obligations.
A company with an LMR of 1.0 — meaning they have the same amount of assets as liabilities — avoids having to post security for future closure work. When a company has more liabilities than assets, their rating would then drop below 1.0, and we would focus on collecting security. At this point it is often too late in the life cycle to collect security because the company may already be in financial distress. Some companies that are in distress eventually become insolvent, and some of their liabilities could ultimately be managed by the industry-funded Orphan Well Association (OWA).
We have seen companies become insolvent with ratings above 2.0, and some as high as 30, which highlights the need for change. A more holistic approach was needed to assess whether companies can meet their regulatory and liability obligations and safely clean up their sites.
New liability management framework
In July 2020, after consultation with the AER, industry, and other stakeholders, the Government of Alberta announced a new liability management framework consisting of five new policy components. We have been directed to create new programs to support the implementation of this framework, which aims to improve liability management in the province by taking into account the full life cycle of energy development.
The following video provides an overview of the new liability management framework and introduces the new licensee capability assessment.
New full-life-cycle approach
The AER is committed to building programs, systems, and processes to help industry reduce liability in the oil and gas sector. We will do this through a holistic approach that applies at all phases of energy development — rather than focusing late in the life cycle. Liability management programs that apply throughout the entire life cycle of development will allow us to proactively identify potential issues, develop timely solutions, and increase the amount of closure work done by companies.
This graphic outlines when the new programs will be involved during the life cycle of energy development.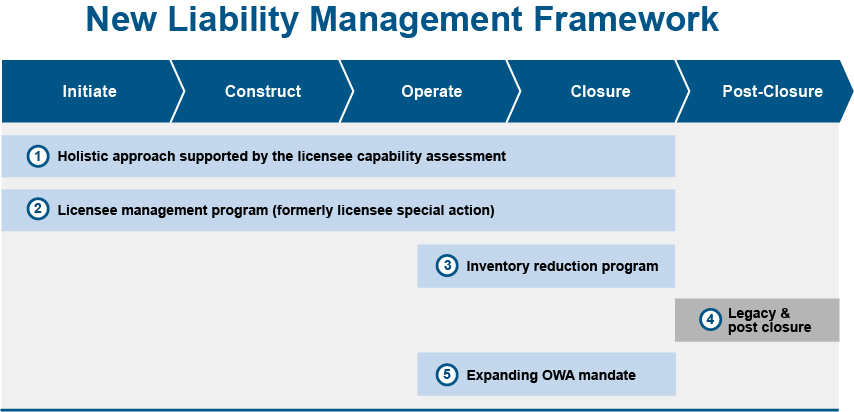 Regulatory Changes
Before we can implement the new government policy, changes are required to several AER directives. We have also announced updates to the Oil and Gas Conservation Rules and Pipeline Rules. We want to ensure that all Albertans have a chance to review potential directive changes through our public feedback process. Alberta needs these changes now. You'll see a lot of information from the AER over the next few months, including opportunities to provide input, as we work to build our liability programs.
Important dates
This section will be updated as we build and implement the new programs and post new information. As we work through these changes, opportunities for public feedback will be posted below. We will also be meeting with industry to outline the new programs and help stakeholders to understand how the changes will impact them.
| | | |
| --- | --- | --- |
| Date | What | More information |
| Early 2021 | New liability management framework presentation | This presentation, also shown above, outlines the new framework and provides early information on the licensee capability assessment. |
| January 13 - February 14, 2021 | Public comment period for Directive 067 changes | Changes to Directive 067: Eligibility Requirements for Acquiring and Holding Energy Licences and Approvals will allow us to collect additional information to be used in our licensee capability assessment. |
| April 7, 2021 | New edition of Directive 067 released | Bulletin 2021-11 announces the new edition of Directive 067. |
| June 7 - July 25 | Public comment period for new draft directive on the liability management framework | Directive XXX: Licensee Life-cycle Management will allow the AER to implement new liability framework components. More information can be found in Bulletin 2021-22. |
| June | Inventory Reduction Program announced | Industry wide closure spend target announced. Licensee specific mandatory spend targets will be available to licensees through OneStop. More information can be found in Bulletin 2021-23. |
| Fall 2021 | Directive XXX: Licensee Life-cycle Management | Directive XXX: Licensee Life-cycle Management will be published following a public comment. Amendments to Directive 006 will also be made. We anticipate that the holistic assessment of the licensee, supported by the licensee capability assessment will be implemented in fall 2021. |
| January 2022 | Mandatory Targets | Beginning January 1, 2022, all licensees with inactive liability will be required to meet an individual annual mandatory target determined by the AER. |
| 2022 | Replacement of the LLR Program and associated regulatory changes | Changes will be made to Directive 006 in phases as we transition away from the Licensee Liability Rating Program and implement the programs outlined in Directive XXX: Licensee Life-cycle Management. In this first phase, requirements around licence transfer applications will be moved from Directive 006 to the new directive, once finalized. Subsequent phases will include additional changes to Directive 006 and other AER directives related to liability management (e.g., Directive 001, Directive 011, Directive 024, Directive 068, and Directive 075) to align with the new Liability Management Framework. |
Other AER liability initiatives
Area-based closure
The voluntary area-based closure (ABC) approach encourages oil and gas companies to work together to decommission, remediate, and reclaim their energy infrastructure and sites. Participants can complete more closure work for the same cost by collaborating with other companies. They benefit by sharing information, services, and infrastructure with other companies and service providers that are completing closure work in the same area. Through this approach, more than $340 million was spent on closure work across the province in 2019. More information can be found in the 2019 ABC highlights report.
The ABC approach was developed by the Alberta Energy Regulator, the Canadian Association of Petroleum Producers, the Explorers and Producers Association of Canada, and the Petroleum Services Association of Canada.
Other liability initiatives not involving the AER
Site Rehabilitation Program
The Government of Alberta's site rehabilitation program is funded by the Government of Canada and allows eligible companies to apply for funding to complete abandonment and reclamation work. The Government of Alberta is responsible for awarding and distributing program funds. The program is not part of the new liability management framework and the AER is not involved in its administration.
However, companies participating in the program must continue to meet all AER requirements. Albertans can contact the AER's 24-hour response line at 1-800-222-6514 if they have any safety or compliance concerns.
More information about eligibility, project requirements, and detailed guidelines can be found on the Government of Alberta's site rehabilitation program website. Questions about the program should be directed to the Government of Alberta at 1-833-680-9083 or @email.
Questions
We know that Albertans are passionate about liability. If you have a question about a certain program, please connect with us.
@email
1-855-297-8311 (toll-free)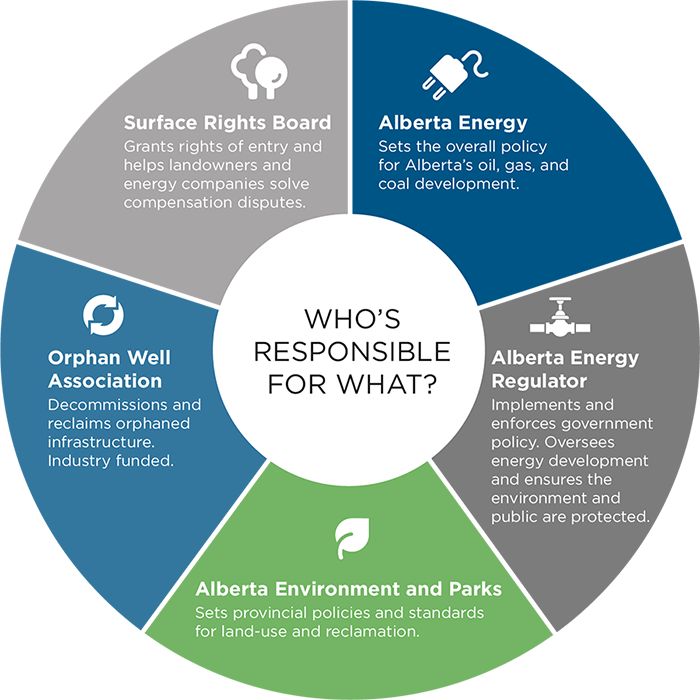 Project Closure
The AER requires licensees to meet closure requirements when an oil and gas site is at the end of its lifecycle. These requirements include abandonment, reclamation, and remediation. Our video series helps explain the process a well goes through when it is finished producing oil and gas.
The Redwater Decision
In January 2019, the Supreme Court of Canada overturned the Redwater Decision, determining that receivers and trustees of insolvent oil and gas companies cannot avoid end-of-life obligations. The ruling means these obligations must be addressed before creditors are repaid.
We are working with insolvency professionals and we recognize their role in helping to ensure that end-of-life obligations are addressed. Insolvency professionals play an important role in marketing energy assets, and in doing so helping reduce liabilities.
We will not object to insolvency professionals receiving appropriate fees during the insolvency process.
More information about the Redwater decision can be found here.
AER's role in insolvencies
The AER does not control or prevent insolvencies. Our main focus when a company enters into insolvency is to protect the public and the environment. During the insolvency, the AER will work with the licensee, or appointed insolvency professional, to address remaining end of life obligations. These obligations can be addressed in several ways, such as transferring licences to responsible licensees, completing closure work, or the posting of security.
The AER encourages insolvency professionals to seek early feedback from us on regulatory issues regarding potential licence transfers. When assets are sold, a transfer application must be submitted to us for approval. Our final decision ensures that the purchaser is an eligible licensee and that the application meets all requirements.
When there is inventory that has not been sold or transferred to responsible operators and there are no industry partners to hold responsible for closure work, we will work to ensure that any remaining funds in the estate are used for site cleanup by the OWA.
Learn more about the AER's role insolvencies here.
Orphan Well Association
When there is no legally responsible party to look after an asset, the AER may designate it as an orphan. The responsibility for an orphaned asset is then transferred to the Orphan Well Association (OWA).
The OWA is an industry-funded, not-for-profit organization. The OWA's annual budget is paid by oil and gas operators through the orphan fund levy. The AER collects the funds from operators and transfers them to the OWA. The 2020 orphan levy amount is $65 million?an increase of $5 million from 2019.
In May 2017, the Government of Alberta provided a loan of $235 million to the OWA to help address a backlog of orphaned sites. The interest on the loan is being covered by a $30 million grant from the Government of Canada. This loan was extended by up to $100 million in March 2020. A portion of past and future orphan fund levies will be used to repay the loan. In April 2020, the Government of Canada provided a separate $200 million loan to the OWA.
Working interest participant
A working interest participant (WIP) is a person who owns a beneficial or legal undivided interest in a well or facility under agreements that pertain to the ownership of that well or facility. WIPs may be required to suspend, abandon, remediate and reclaim a well or facility that they have a working interest in and are required to pay their proportional share of suspension, abandonment, remediation and reclamation costs. When a WIP has been directed to carry out closure work by the AER, the WIP may enter into an agreement with the OWA for the purpose of suspension, abandonment, remediation or reclamation of a well, facility, well site or facility site that is under AER direction.
OWA has the discretion to accept or deny any proposals for WIP Agreements made by WIPs.
The OWA posts information about WIP Agreements, on its website.
Unpaid municipal taxes and surface lease payments
Following a public feedback period, we announced changes to Directive 067: Eligibility Requirements for Acquiring and Holding Energy Licences and Approvals. The AER may now consider unpaid municipal taxes and surface lease payments as factors when assessing unreasonable risk related to eligibility for energy development. We can now request information from companies on unpaid municipal taxes and surface lease payments when determining if they are eligible to hold a licence as well as for maintaining eligibility throughout the life cycle. When requested by the AER, companies must disclose the amount of any unpaid municipal taxes or surface lease payments. This information will allow us to better asses if a company has the financial capacity to maintain their eligibility to hold a licence and if they are able to meet their regulatory and liability obligations, including closing energy infrastructure.
Municipalities can share their concerns around unpaid municipal taxes or surface lease payments by submitting a statement of concern on Directive 067 applications. The AER is unable to consider specific complaints for unpaid municipal taxes or surface lease payments outside of this process. We post public notices for all applications we receive on aer.ca. The current transfer requirements and process outlined in Directive 006: Licensee Liability Rating (LLR) Program and Licence Transfer Process will continue until the new directive has been issued, and then amendments will be made to Directive 006, which we anticipate will be in fall 2021.
The AER is not involved with the collection of unpaid municipal taxes or surface lease payments and does not have jurisdiction to take compliance or enforcement actions related to non-payment. Municipalities continue to remain responsible for the collection and enforcement of their municipal taxes.
Landowners should contact the Surface Rights Board at 780-427-2444 or @email for information or questions about surface lease payments. Landowners are eligible to apply for surface lease compensation through the Surface Rights Board. The Government of Alberta has more information on what to do when a company fails to make annual surface lease payments.The Farmers' Advocate Office provides support and resources for farmers and ranchers, including advocacy and energy, utility, surface rights, and rural dispute resolution. You can contact the Farmers' Advocate Office through 310-FARM (3276) or @email.