The Montney Formation is in the northwest part of Alberta. Historically, it has been a conventional oil and gas target in areas where permeability is high. Horizontal multistage fracturing has now opened new viable exploration targets. As a result, the Montney Formation, once a minor producer, has become one of the most active targets in Alberta.
Figure R2.3 shows the extent of the Montney Formation in Alberta and the division of the formation into five geological plays.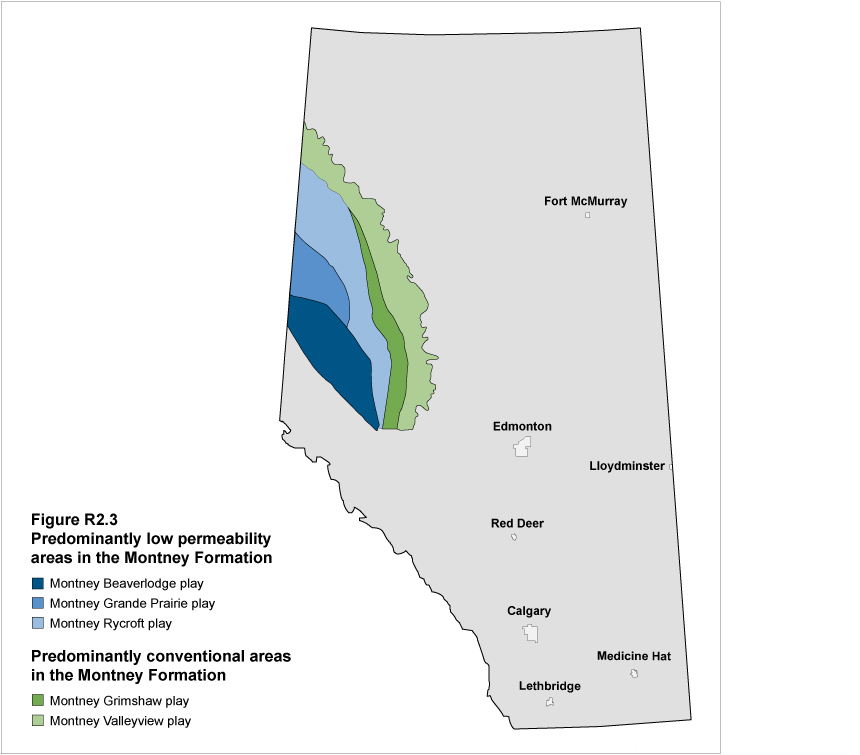 Geology
The Montney Formation was deposited during the early Triassic over 247 million years ago. The eastern margins of the Montney Formation were deposited along a bow-shaped shoreface. The depositional environment transitions to the offshore in the west. The lithology of the Montney includes sandstones and dolostones in the east and mainly fine sandstone to siltstones in the west. The formation is nearly 300 metres (m) thick in the west, thinning to a zero edge in the east and ranges in depth from about 700 m in the northeast to 3500 m in the southwest as measured from the ground surface to the formation top. In areas with great thickness, companies are targeting multiple layers.
The definition and nomenclature of the Montney Formation differ between Alberta and British Columbia. For the purpose of this report, the Montney Formation corresponds with the interval designated as the Montney zone as defined in the deeper rights reversion zone designations (DRRZDs) 204 and 264 and constrained by the definition of the Doig zone (DRRZD 251) as posted on Alberta Energy's website.
Geological Plays
The AER has subdivided the Montney Formation into five plays:
Beaverlodge
Grande Prairie
Rycroft
Grimshaw
Valleyview
Reserves
The estimates below are based on horizontal multistage fractured wells in the Beaverlodge, Grande Prairie, and Rycroft geological plays, which represent the low-permeability areas of the Montney Formation.
The total remaining proved plus probable reserves are  
39.4 million cubic metres (106 m3) oil,
70.9 106 m3 condensate, and
245 557 106 m3 natural gas.
Table R2.3 shows the initial and remaining reserves for the low-permeability resources in the Montney Formation.

Learn More