About mineral regulation
The Government of Alberta is working towards expanding the Alberta Energy Regulator's (AER) mandate to include the regulation of critical and rare earth mineral types, such as lithium, uranium, rare earth elements, and diamonds. Mineral resource development is part of the Government of Alberta's plan to diversify the energy and resource sector. Once proclaimed, the Mineral Resource Development Act will establish the AER as the life cycle regulator for Alberta's mineral resources. We are working with Albertans to help inform future regulatory decisions. 
What's the AER's role in mineral regulation?
The AER has well-established processes for regulating energy resource development. As the future mineral regulator, the AER will be applying these processes and developing requirements that reflect the Government of Alberta's direction set through policy, regulation, and legislation.
AER responsibilities include:
Why are we regulating minerals?
The Government of Alberta has stated it wants to capitalize on Alberta's mineral potential to become a preferred international producer and supplier of minerals and mineral products. According to Renewing Alberta's Mineral Future, this will 
strengthen and diversify the economy, create jobs, and attract investment;
capitalize on Alberta's potential to become a preferred international producer and supplier of minerals; and
address the shift towards a lower-carbon economy.
What minerals will the AER be regulating?
According to Bill 82: Mineral Resource Development Act, AER-regulated minerals will include critical and rare earth minerals. We have categorized these minerals into two groups: brine-hosted and hard rock minerals. 
Brine-hosted minerals are typically found in underground saltwater and are mostly extracted through well infrastructure.
Conventional "hard rock" minerals refer to minerals extracted through more traditional mining or quarrying.
These critical and rare earth minerals can be found throughout Alberta and are used for ingredients in batteries, portable devices, TVs, toothpaste, buildings, eyeglasses, computers, vehicles, hospital equipment, and many other daily-use items .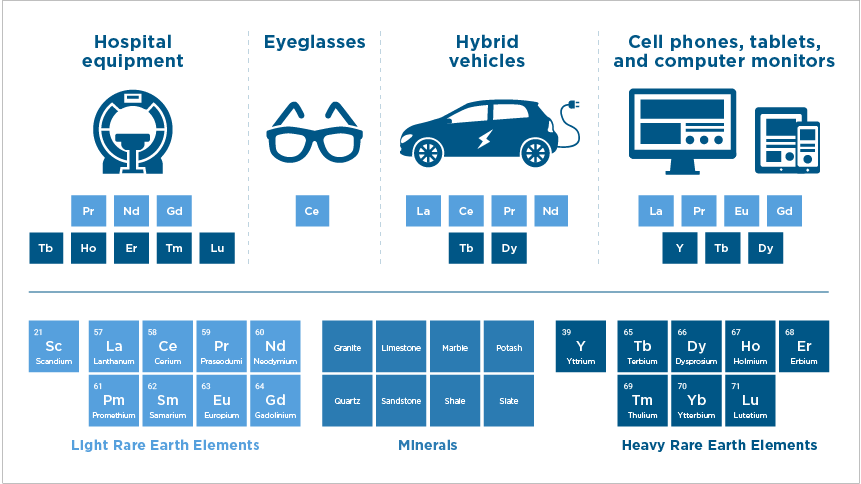 Our process to develop regulations to support the development of these minerals will be done in phases, with brine-hosted minerals engagement and the development of requirements to occur first, and hard rock minerals to come later.
Examples of the minerals identified in Bill 82 include the following:
| | | | | |
| --- | --- | --- | --- | --- |
| gold | precious stones | zinc | limestone | phosphate |
| silver | copper | salts (including lithium) | marble | sandstone |
| uranium | iron | sulphur | potash | shale |
| platinum | tin | granite | quartz rock | slate |
The following were excluded from Bill 82 as they are regulated through existing legislation: petroleum, oil, asphalt, bituminous sands, oil sands, natural gas, coal, ammonite shell, sand, gravel, clay, peat, and marl. The AER will continue to regulate petroleum, oil, asphalt, bituminous sands, oil sands, natural gas, and coal.
Where are these minerals located?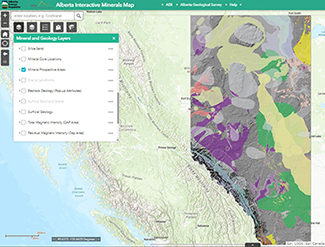 The Alberta Geological Survey (AGS) has been researching minerals within Alberta for decades. This has helped us map minerals within our province and demonstrate the potential for minerals resource development.
Review the AGS interactive minerals map*.
*Please note: The interactive map is based on 2020 data and will be updated as new information becomes available. 
How will the AER engage with Albertans?
Since 2020, the Government of Alberta has sought input on its mineral strategy and Bill 82. Feedback was shared with the AER to inform its engagement work and the development of future requirements. The AER will be expanding on the Government of Alberta's engagement sessions. First, engagement on brine-hosted minerals. Engagement on hard rock minerals will follow. Our engagement events will include the following:
Targeted engagement input on the mineral regulatory development with Indigenous communities, industry, and other stakeholders
Public comment periods to help inform the final requirements
How do I share my input during the regulatory development phase?
There are several ways to provide feedback to the AER related to minerals regulation. 
Participate in an engagement event. We'll be reaching out to those who have previously identified an interest, those directly impacted by potential operations, and key stakeholder groups. If you wish to participate, please email @email.  
Participate in the public comment periods. Public comment periods are announced through bulletins. People can stay informed by subscribing to AER and AGS email updates and by following the AER on Twitter and connecting with us on LinkedIn.
Update: Our 41-day public comment period is now open. We are seeking feedback on our draft Brine-hosted Mineral Resource Development directive and proposed changes to Directive 056 Energy Development Applications and Schedules (D056).
Where can I find answers to my questions?
Based on input from our public engagement sessions, we have compiled answers to the most asked questions about the regulation of brine-hosted minerals and have provided them on this webpage. Because the regulatory requirements are under development, we cannot provide detailed information. However, as information becomes available, we will update our responses. We will also issue a draft directive for public comment.
If you would like to provide input, express concerns, or ask questions please email @email.
Does the AER have the expertise to regulate minerals?
The AER has, in various forms, been regulating energy and resource development in Alberta for more than 80 years. Also, our partners at the Alberta Geological Survey (AGS) have researched, mapped, and studied minerals for decades. Although we have the expertise to leverage, we continue to expand our knowledge and seek additional resources when needed.
Who is funding the regulation of minerals?
The Government of Alberta has provided grants to the AER to support this work. This funding is separate from fees collected from oil and gas.
How will the AER manage competing interests from operators?
The AER and the Government of Alberta sought feedback from industry stakeholders about competing interests (i.e., oil and gas, carbon capture, geothermal, and minerals). This input will support our decisions and will be reflected in the draft regulatory requirements. 
Did you know?
Sometimes companies work together to meet their operational needs and lessen their environmental footprint. For example, wells that produce both geothermal energy and oil and gas (i.e., coproduction). 
What is the regulatory framework?
The Government of Alberta sets the policy regarding mineral resources. The regulatory framework reflects the policy direction and includes:
the legislative instruments (e.g., acts, regulations, and rules) and
the directives that specify requirements and expectations that industry must follow.
The following graphic shows the division of responsibilities for the regulatory framework. Similar frameworks exist for geothermal and oil and gas resource development.
Once the framework is in place, we enforce it through our compliance and enforcement program.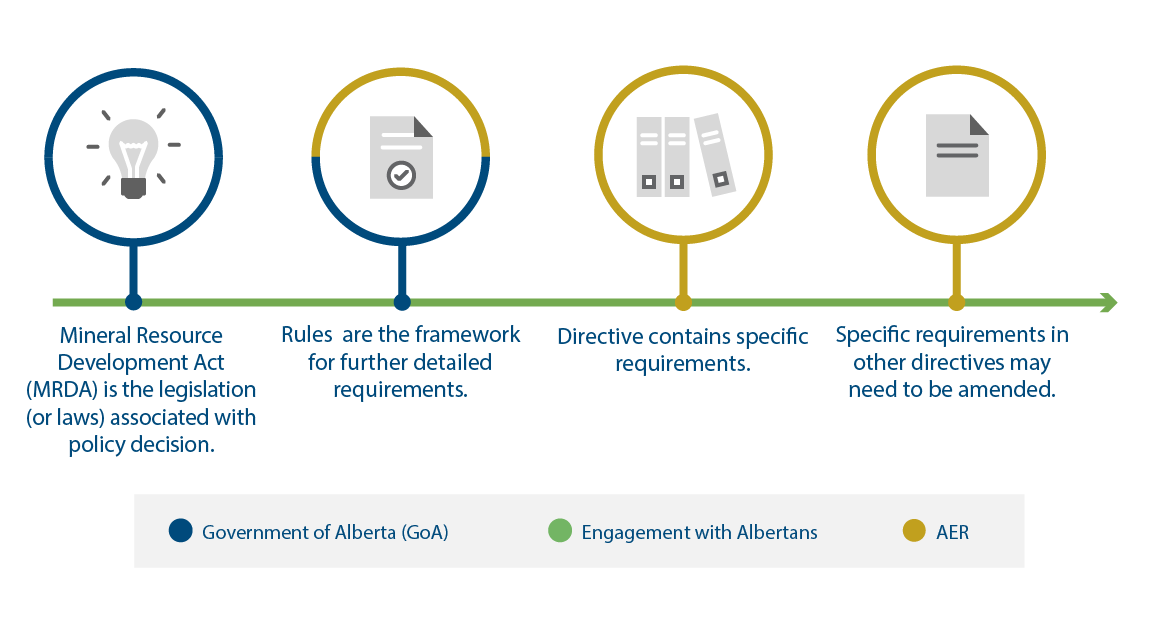 Who's responsible for brine-hosted mineral regulation?
Regulation is complex and requires several entities to manage. Mineral development is currently overseen by a variety of regulators including:
Natural Resources Conservation Board (NRCB)
Alberta Energy
Alberta Environment and Parks (AEP) and 
Alberta Energy Regulator (AER).
Once the Minerals Resource Development Act (MRDA) is proclaimed and the rules and directives are in place, the AER will be responsible for regulating the life cycle of minerals.
What does a life-cycle regulator mean?
AER regulation begins at the application review stage, continuing throughout construction and operations, and ending with site closure and reclamation.
Are there examples of current industrial operations within Alberta that produce brines?
There are three industrial operations in Alberta that produce brines: Calling Lake north of Athabasca, Mistue in the Slave Lake area, and Sunnynook near Drumheller. These operations produce calcium chloride from brines and include a well and well-site facility. The upgrading facilities are located outside Alberta. 
Did you know? 
Regulatory oversight for minerals is currently split among several entities, including Alberta Environment and Parks and Alberta Energy. 
How will liability be managed?
The AER plans on taking a holistic, life-cycle approach to liability management for mineral resource development and will align with the liability management framework where possible.
How will security be managed?
The AER is in the process of assessing the approach to security for the minerals sector.
What type of water is used in the production of brine-hosted minerals?
Based on current operations and conceptual technologies, these operations will not require much fresh water. Brines are highly saline (salty) water found deep below the base of groundwater protection. Therefore, brines are not used for drinking water (i.e., potable) or agricultural purposes.
Is brine extracted through mining?
No, brines are not mined. Brines are liquid and are extracted through wells.
Did you know?
Within Alberta, lithium is almost exclusively found within brine water.
How will the environment be protected?
The AER has regulatory requirements that can apply to brine-hosted mineral developments. For example, regulatory requirements already exist, including preventive measures such as conservation and reclamation planning, monitoring programs, and emergency response planning. These existing requirements will be combined with specific requirements related to brine spills and cleanup, pipeline corrosion, soil protection, waste management, and storage.
Although these established preventive measures may translate into requirements associated with brine-hosted minerals, we're exploring what needs to be updated and changed. Those details will come as the directive is drafted. 
Did you know? 
Brine is a by-product of traditional oil and gas operations and is known as produced water. 
How big is the environmental footprint of a brine-hosted mineral operations?
It varies depending on the operation and the technology. 
Did you know?
Operators could use existing infrastructure to extract brine-hosted minerals (e.g., wells, pipelines, storage units). 
Is there an increased safety risk associated with brine-hosted minerals?
We do not expect brine-hosted minerals to pose any public safety risks that cannot be managed through the Oil and Gas Conservation Act. These risks associated with well-based operations are clearly understood and managed using existing regulations.
How can I be assured the AER will require industry to have appropriate risk mitigation measures in place?
We have extensive knowledge from the oil and gas sector that can help inform the safe and responsible development of brine-hosted minerals. For example, we have requirements for emergency response planning and for saltwater containment (e.g., berm heights, liner types, double-wall containment, leak detection, and spill response). We also apply additional requirements as the volume of water stored increases. This approach is one way we could consider risk within our new requirements. 
What is participant involvement?
In general, it's about how operators engage with those affected by their operations as directed by regulatory requirements and the opportunities for participants to provide input about those operations. For example, Directive 056: Energy Development Applications and Schedules states that an operator must receive written consent from a landowner to use their land before an application is submitted (this is called a non-objection). 
How will participant involvement be managed?
Section 31 of the Responsible Energy Development Act (REDA) and section 5 of the Alberta Energy Regulator Rules of Practice set out the rules regarding public notice associated with resource development applications. We anticipate that any application submitted under the MRDA will be subject to these participant involvement requirements (i.e., notification and consultation requirements).
Did you know?
The AER provides opportunities to have your say about proposed developments beyond those outlined in REDA, including participation in a public comment period. We also seek feedback in less formal ways such as stakeholder workshops. 
When will the AER be accepting applications?
The AER must complete several steps before we can process applications for this type of development. This includes engaging with stakeholders and Indigenous communities, drafting requirements, hosting public comment periods, and hosting industry training sessions.