About mineral regulation
The Government of Alberta is expanding the Alberta Energy Regulator's (AER) mandate to include the regulation of critical and rare earth mineral types, such as lithium, uranium, rare earth elements, and diamonds. Mineral resource development is part of the Government of Alberta's plan to diversify the energy and resource sector. Once proclaimed, the Mineral Resource Development Act will establish the AER as the life cycle regulator for Alberta's mineral resources. We are working with Albertans to help inform future regulatory decisions. 
What's the AER's role in mineral regulation?
The AER has well-established processes for regulating energy resource development. As the future mineral regulator, the AER will be applying these processes and developing requirements that reflect the Government of Alberta's direction set through policy, regulation, and legislation.
AER responsibilities include:
Why are we regulating minerals?
The Government of Alberta has stated it wants to capitalize on Alberta's mineral potential to become a preferred international producer and supplier of minerals and mineral products. According to Renewing Alberta's Mineral Future, this will 
strengthen and diversify the economy, create jobs, and attract investment;
capitalize on Alberta's potential to become a preferred international producer and supplier of minerals; and
address the shift towards a lower-carbon economy.
What minerals will the AER be regulating?
According to Bill 82: Mineral Resource Development Act, AER-regulated minerals will include critical and rare earth minerals. We have categorized these minerals into two groups: brine-hosted and hard rock minerals. 
Brine-hosted minerals are typically found in underground saltwater and are mostly extracted through well infrastructure.
Conventional "hard rock" minerals refer to minerals extracted through more traditional mining or quarrying.
These critical and rare earth minerals can be found throughout Alberta and are used for ingredients in batteries, portable devices, TVs, toothpaste, buildings, eyeglasses, computers, vehicles, hospital equipment, and many other daily-use items .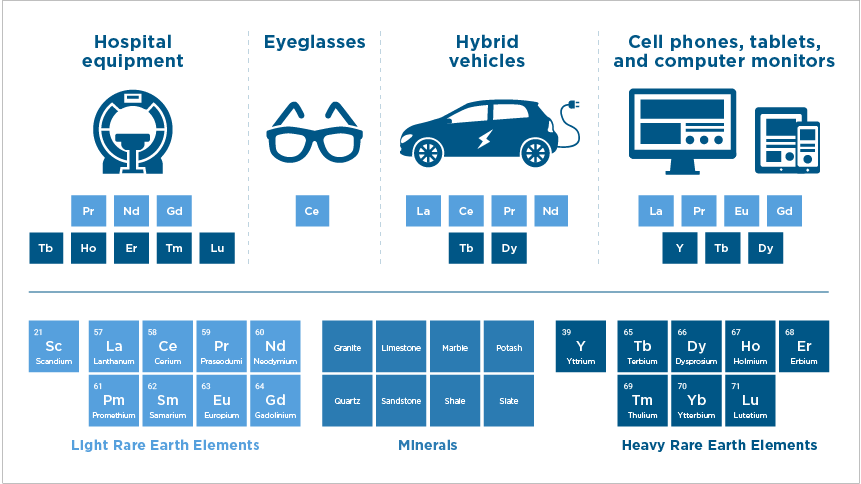 Our process to develop regulations to support the development of these minerals will be done in phases, with brine-hosted minerals engagement and the development of requirements to occur first, and hard rock minerals to come later.
Examples of the minerals identified in Bill 82 include the following:
| | | | | |
| --- | --- | --- | --- | --- |
| gold | precious stones | zinc | limestone | phosphate |
| silver | copper | salts (including lithium) | marble | sandstone |
| uranium | iron | sulphur | potash | shale |
| platinum | tin | granite | quartz rock | slate |
The following were excluded from Bill 82 as they are regulated through existing legislation: petroleum, oil, asphalt, bituminous sands, oil sands, natural gas, coal, ammonite shell, sand, gravel, clay, peat, and marl. The AER will continue to regulate petroleum, oil, asphalt, bituminous sands, oil sands, natural gas, and coal.
Where are these minerals located?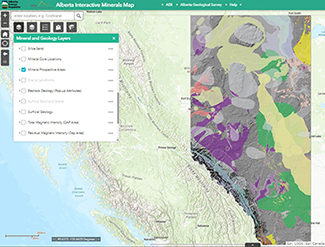 The Alberta Geological Survey (AGS) has been researching minerals within Alberta for decades. This has helped us map minerals within our province and demonstrate the potential for minerals resource development.
Review the AGS interactive minerals map*.
*Please note: The interactive map is based on 2020 data and will be updated as new information becomes available. 
How will the AER engage with Albertans?
Since 2020, the Government of Alberta has sought input on its mineral strategy and Bill 82. Feedback was shared with the AER to inform its engagement work and the development of future requirements. The AER will be expanding on the Government of Alberta's engagement sessions. First, engagement on brine-hosted minerals. Engagement on hard rock minerals will follow. Our engagement events will include the following:
Targeted engagement input on the mineral regulatory development with Indigenous communities, industry, and other stakeholders
Public comment periods to help inform the final requirements
How do I share my input during the regulatory development phase?
There are several ways to provide feedback to the AER related to minerals regulation. 
Participate in an engagement event. We'll be reaching out to those who have previously identified an interest, those directly impacted by potential operations, and key stakeholder groups. If you wish to participate, please email @email.  
Participate in the public comment periods. Public comment periods are announced through bulletins. People can stay informed by subscribing to AER and AGS email updates and by following the AER on Twitter and connecting with us on LinkedIn.
Where can I find answers to my questions? 
As this is a new area of regulation for the AER and Alberta, we anticipate there will be many questions along the way. We will collect those questions and work hard to provide answers. We also anticipate that many answers will evolve as we learn more about how these minerals can be safely developed. As we find our answers, we'll keep this page updated. Subscribe to AER and AGS email updates. 
If you would like to provide input, express concerns, or ask questions please email @email.
When will the AER be accepting applications?
The AER must complete several steps before we can process applications for this type of development. This includes engaging with stakeholders and Indigenous communities, drafting requirements, hosting public comment periods, and hosting industry training sessions.