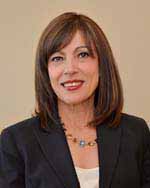 Georgette Habib
Board Director
Ms. Habib has a long record of public service and brings extensive experience in the regulation of the energy industry. Ms. Habib was appointed to the National Energy Board in 2006 and completed her term in 2013. She served on its Governance and Audit committees and chaired its Regulatory Policy Development committee. She held management staff positions with the Alberta Energy and Utilities Board, the predecessor of the Alberta Energy Regulator, for over 20 years. Currently, Ms. Habib provides independent consulting services and expert evidence on energy matters, mainly related to economic regulation of energy utilities.

Ms. Habib has extensive Governance experience and served on an expert panel mandated to review Alberta Government Agencies, Boards, and Commissions. She also served on the Board of Governance of the University of Calgary and was a member of Environment, Health, Safety, and Sustainability Committee. Ms. Habib was an elected Senator with the University of Calgary and served on its Executive Committee, Vice Chair of the Honorary Degree committee, and Chair of the Order of the University of Calgary.

Ms. Habib holds a BA in Mathematics from the American University of Beirut and an MA in Economics from the University of Alberta, and completed an advanced governance education program from the Canadian Board Diversity Council.